Daniel Crower LLC -
Custom Camshaft Grinding
Daniel Crower Racing has in house cam grinders and provides full service camshaft services including consulting, cam regrinding and cam repair.
Select a Sub-Category
We offer custom camshaft grinding services. With 60 years of knowledge in the field. Using specialty Centrifugal Grinding Landis Camshaft Machines & over 500 Master-Profile Specs....
More Details »
Custom Camshaft Grinding
Featured Products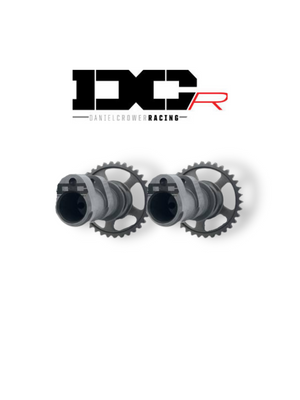 Description:
2022-2023 DCR Honda CRF250R Intake & Exhaust Camshaft Set Racing Camshafts Manufactured In California Performance developed for MX demands Machined & Precision ground in-house +2.5 HP Gain...
More Details »
Item #:
HON-CRF-250R-GPR-22
Hand-Made to Order Available now for purchase Allow for 7-10 business days manufacturing time
We will notify you when the product is ready to ship. The selected method of shipping is NOT from today but from the day the product ships. Call to verify when it will ship
---
More About
Custom Camshaft Grinding
Most camshafts can be reground for more performance. If you dont have time to send us your cores for regrinding, we can provide most OEM cores.